Vote for us! For the
MP3.de Websound Award
!
Click here
!
The new lineup will play together for the first time today. As
Jens
and
Marco
already combined their composing skills, it is highly imaginable, that a new song will be born today, containing some differences compared to the other Anudu songs.
But there'll be another couple of songs performed, like
Always
(Bon Jovi),
Smoke on the Water
(Deep Purple) and
Rondo Alla Turca
(Mozart) to get used to each other.
The band is currently dealing with Braun-Studios for a professional recording of the
Wings Out Of Shadows Album
.
The Wings Out Of Shadows Album Cover has been redesigned!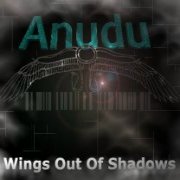 How do you like it? Tell us!
Jens Voigtlaender (bass)
has
re
joined Anudu! Check out his latest interview and look forward to some alien influence in future songs!
The new lineup is going to record the whole
Wings Out Of Shadows
album again.
Let's see...
A competition has been added! You can win a whole big bunch of prizes, by simply answering one question!
An interview with former member and guest musician
Jens Voigtlaender
has been added!
Interviews have been made with
Manuela
,
Marco
and
Daniel
!
Check them out
, if you like! Also, the spelling of
Anudu
has been cleared, finally!
Try
['enju:du]
!
As you probably have seen, the possibility to join our Mailinglist is given
here
! If you want to get major news by mail! Don't be afraid: it appears only seldom, for the most important,
MAJOR
updates, as new songs, live events etc.
JOIN TODAY!
The band's history
has been enhanced. If you want to learn who left and joined the band, and why, don't hesitate to read it... it's interesting! If you learn all the band members by hard, you can fetch a cold beer at the band's practice room!
God Has Left For Good
and
This Life
are available for download! Be sure to grab them in our
soundfiles section
!
After listening, participate in our
new poll
, and vote for your favourite Anudu song!
This Life
is also available as RealAudio.
Click here
to listen to it right now!
The two new songs have been recorded! You can have a look at the lyrics!
One is the sad ballad
God Has Left For Good
and the other one is named
This Life
.
Very special thanks go to
Thomas Johnen
for playing the lead guitar in both songs (check this out!!!) and
Jens Voigtlaender
for playing the bass on
This Life
.
Both songs are currently undergoing some remastering! Check back at this news section, we'll inform you ASAP, as the songs are available for download! You'll like 'em!
Happy new year to everyone! Anudu is going to record two new songs at the end of this week. The one is
God Has Left For Good
and the other one is still secret. We have a guest musician for this one, so expect some differences! Stay tuned!